In an effort to identify the most sustainable transport connections between the states in Central Asia and the extended Trans-European Transport Network (TEN-T), the European Bank for Reconstruction and Development (EBRD) is conducting a study of Sustainable Transport Connections between the two continents funded by the European Commission.
Talking about the study which should be finalized by summer 2023, EBRD Managing Director for Central Asia, Zsuzsanna Hargitai, said that the project focuses on two key objectives.
First is to identify the most sustainable transport corridors connecting the EU's TEN-T with the five Central Asian states – including the Caucasus- and, second, to propose actions for the development of these corridors, including investments in the actual infrastructure and necessary enabling environment.
The main route linking North-East Asia with Europe, until recently, was the Eurasian Northern Corridor, starting from Russia's Far East using the Trans-Siberian railway with its branches going through Kazakhstan and Mongolia.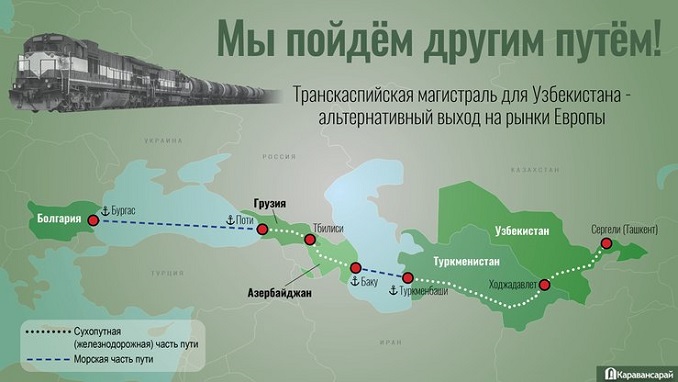 Despite not being a complete alternative to the Northern Corridor, as Hargitai pointed out, the Transcaspian Corridor (the Middle Corridor) which runs through the territory of Kazakhstan is generally considered to be the second-best land-based option.
She pointed out that its economic efficiency is yet to be assessed because should this corridor become a more preferred new route for freight companies, large investment across the entire corridor will be required for a diversion of transit cargo exceeding 10 percent of the Northern Corridor's tonnage.
Uzbekistan, on the other hand, is currently pursuing multimodal transportation (road and rail) from China – by road through Kyrgyzstan then onwards through Turkmenistan and Iran by road or through the Trans-Afghan route.
Other options include the use of the Turkmen port of Turkmenbashi, then onwards to the port of Poti in Georgia through the Caspian Sea.
The port of Poti is barely economically viable since is highly inefficient on top of having the highest transit tariff and presents even a bigger bottleneck than the Kazakh ports since it operates a very limited number of feeder vessels.
Moreover, this route will require additional bilateral arrangements since Turkmenistan is not a party to international agreements.
As Hargitai emphasized, the EBRD is already working with transport and logistical companies along the Middle Corridor such as Kazakhstan's Temirservice Astana, which is the operator of the first private railway station in Kazakhstan.
Also, EBRD signed a memorandum of understanding (MoU) last year with the seaport of Aktau and is considering approving a loan to support the modernization of cargo handling equipment and related port infrastructure.